colored jeans and shorts are totally in right now, and we've discussed my quest for the perfect pair of pink pants before. the good news is, you can buy pink pants in plus size now without having to dye a white pair. manufacturers are finally getting the message that just because we're plus size on the bottom doesn't mean we only want to wear black pants. SWEET. so, who's got what colors? let's go over the options.
these pink michael kors colored skinny jeans are the first pink plus size skinny jeans i've seen out there in awhile. have you spotted any recently?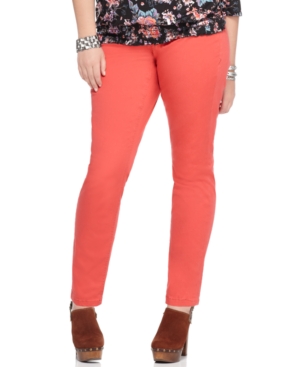 these are american rag plus size jeans from macy's in a color they call "baked apple." i would call this salmon or coral.

forever21 has a lot of options in skinny jeans, including these. they come in teal, purple
, lime
, red
, black
, and white
, and they're $22.80. totally affordable! they've gotten great reviews on their website, too.
delia's also has a set of colored jeans on sale. these are the britt jean yellow jean.
have you found a pair of colored bottoms out there that you're totally in love with? these are just a few of the ones i've seen, but i've yet to try any of them out. so many choices! i'm totally into the neon ones …
xoxo
nettaP
[email_link]