no holiday is complete without a little jewelry underneath the tree or around your neck, right?
i'm absolutely in LOVE with big statement necklaces at the moment. like this one by betsey johnson at macy's. the bead and fireball necklace
will have you looking like you're all wrapped up like a gift!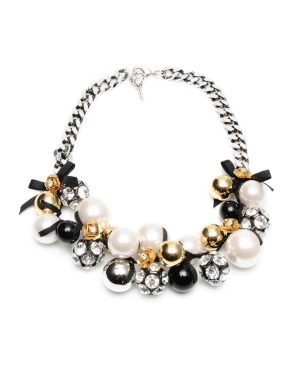 you've probably been party to the collar trend that we've seen all over the place. collars are totally in – on top of what you're wearing, with a strapless or lower cut top, just … everywhere. i love that
asos has made it easy to do this trend with jewelry
.
affordable, too, $21.82.
i've also seen a lot of necklaces out there there look like they're scarves, but they've got incredible sequins and beading added to them. one example is this piece called the le charlot necklace by roarke.
this piece is definitely for those with a little more change in their pocket, but i feel pretty sure that we'll see less expensive version out there very soon. this would pack a punch with any outfit, however.
i like this red spike necklace from kenneth jay lane, too. it's in the more affordable range at $80. it's for those days that maybe you want to tell people to stay back or that you're sharp in mind and body. love a good piece of costume jewelry like this.
also on my LOVE THAT list of fabulous statement necklaces that will dress up any little black dress you may have is this anne klein necklace with hematite-tone jewels.
if you've got a colored dress that's plain, and it needs a little jazzing up, then this piece from fossil will be right up your alley. it's almost like a bib necklace, but it's sticking to the basics. the neutrals of jewelry, if you will.
last, but certainly not least, is this HUGE statement of a necklace from the women's st. john collection. it's a limited edition crystal bow statement necklace that is just TO DIE FOR.
it's so large, so detailed, so decadent, it's almost too much. it's also $595, which is definitely too much for me. but hey, perhaps for you? who knows?
if you want to see all of the jewelry and accessories that i've found across the web, check out my accessories shop right here on xoxonettaP!
until next time ladies, xoxo nettaP
[email_link]